Back
2019 Rustic Wedding Trends We Love!
2019 Rustic Wedding Trends We Love!
Though the idea of a rustic wedding has been of particular interest over the past few years, the fact is: it's a timeless wedding theme that has been around for, well, ages. Rustic weddings have a strong country, garden or farm-like influence, and they tend to feature lots of natural color palettes such as pampas grass, and various organic materials and fibres.
Rustic weddings are somewhat casual and are often held in venues such as barns, farms, mountain lodges, or ranches. In fact, anywhere that incorporates the great outdoors or the countryside is a perfect fit for a rustic theme.
The décor trend for 2019 appears to incorporate lots of natural elements including wood, burlap, wildflowers, fruits and the like. It can be a little bit shabby and using a lot of mismatched elements is not just acceptable, but expected at a rustic wedding.
You don't need to have all of these elements to have a rustic wedding, for example, you could be getting married in a hotel ballroom but using rustic decor, natural colours and wildflowers. It's more about the overall vibe than the individual details.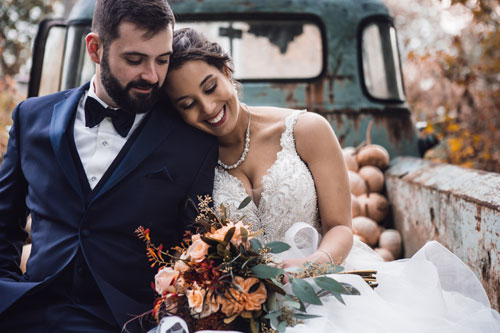 Rustic weddings should be relaxed, romantic, and natural.
Rustic weddings aren't all about being trendy (though they can be pretty trendy). Although earthy and simple items such as mason jars, mismatched vases, glasses, and plate ware are commonly found at a rustic-themed wedding, the possibilities are endless. Have your balloon arch upon entry, revel in the joys of a wedding theme colour that isn't a beige, cream or white. Make your big day happen your way!
How does a rustic wedding differ from a vintage wedding?
Rustic weddings are often confused with vintage weddings, but they are actually quite different. While the rustic theme focuses more on wedding decorations with natural elements and the great outdoors, a vintage wedding draws its inspiration from times gone by. Vintage weddings often have an antique Victorian wedding day flavour to them.
Where rustic weddings feature mason jars full of wildflowers and burlap table runners, vintage weddings are more likely to have vintage vases, antique crockery and lace tablecloths. The only thing the two themes have in common is that they are about simplicity, nature, and character… Lots of character!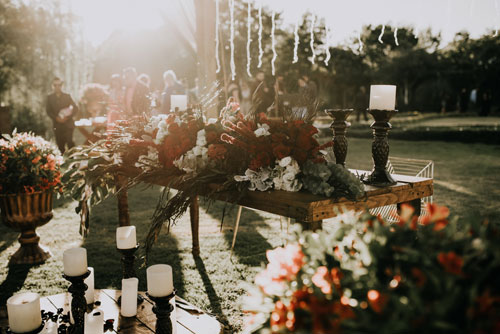 TRENDS TO KEEP AN EYE ON:
Non Traditional Wedding Catering
Catering and dining are a very important part of every wedding. Give your guests a unique dining experience that they are sure to rave about afterwards. Your wedding day will be a day surrounded by those you love, making memories that will last forever. We can ensure that when it comes to time to feed your guests you will never be let down by our wedding catering menus.
Here, at Brazilian BBQ, we make it our mission to make your dream day an unforgettable one. We can make sure that all your guests are catered for, including any allergies or preferences be that vegetarian, vegan, gluten free, dairy free or nuts.
Native Decor
The biggest mistake a couple can make when decorating their restaurant wedding venue? Fighting against its as-is interior design. That's why it's important to select a venue you love for more than just its cuisine: It's aesthetic matters and should feel cohesive with your own.
Colourful Tabletops
If you've chosen a locale with a neutral colour palette, feel free to get creative with colour (you won't have to worry about conflicting shade combinations in a white-walled space!).
Chair Rentals
Thousands of people have sat inside the brunch spot you've chosen to call your wedding venue. While that's a testament to the eatery's success, knowing that space is so frequently utilized can make it feel less special—and less like it belongs to you. An easy way to make the restaurant your own? Bring in a few rentals that subtly change its vibe.