Back
Why Brazilian BBQ is the best wedding caterer!
Why Brazilian BBQ is the best wedding caterer?
Catering and dining are a very important part of every wedding. Your wedding day will be a day surrounded by those you love, making memories that will last forever. We can ensure that when it comes to time to feed your guests you will never be let down by our wedding catering menus
Here, at Brazilian BBQ, we make it our mission to make your dream day an unforgettable one. We can make sure that all your guests are catered for, including any allergies or preferences be that vegetarian, vegan, gluten free, dairy free or nuts. That's one thing off your plate, right? (What food puns?)
If you're still not convinced, keep reading below to find out why we are the best in what we do: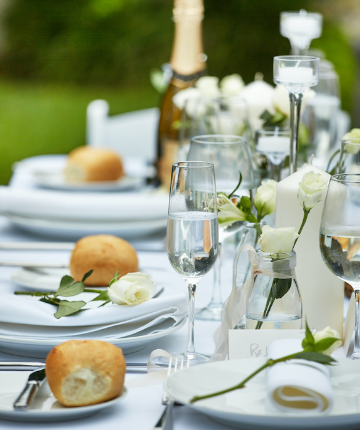 On-site BBQ:
We provide mobile on-site freshly cooked authentic Brazilian rotisserie meat. Our highly talented and experienced chefs grill your meat to juicy perfection right in front of your eyes! Good food and entertainment? We bring both!
On the day, our wedding catering service team will arrive around 2 hours prior to the main service to make the magic happen. We prepare the food on site using our mobile BBQs with exclusive design, using South American style charcoal for a unique smoky flavour, setting up a live cooking station that guests will be thrilled to watch. We are really self-sufficient, bringing all the equipment we need to cook and serve the food on site and we don't charge any extra for it! Keep in mind we require an open area for cooking. Following full service we pack all equipment back in the van and leave only great memories of delicious food and outstanding friendly service behind, so you don't have to lift a finger on the day!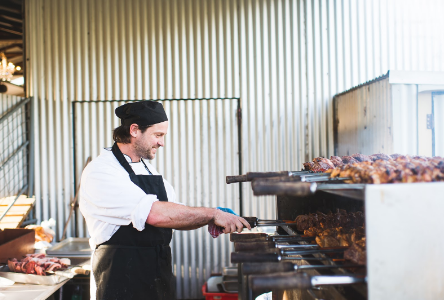 Customizable packages:
Not every wedding is created equal. We understand that every wedding has different needs. Brazilian BBQ catering offers a range of bespoke and customizable packages to make sure the catering suits your unique vision for your big day.
We provide three wedding packages: Buffet Style and Rodizio Style and Cocktail Style.
If you are looking for a classic wedding layout with food stations, then our Buffet Style package is the perfect fit for you. It is ideal for both formal sit down setting with porcelain plates and more casual setting in case not everyone is sitting at tables we provide rustic eco plates, firm and strong but light enough to have the meal standing up.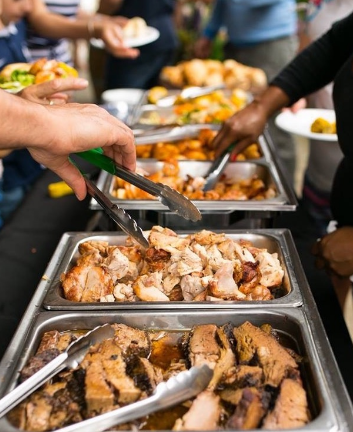 If you are looking to feel like royalty on your special day and like your meal come to you, then our Rodizio Style package is the one for you. Your freshly cooked meat is served in waves by our wait staff directly onto guest's plates, straight off the grill, the traditional Brazilian style!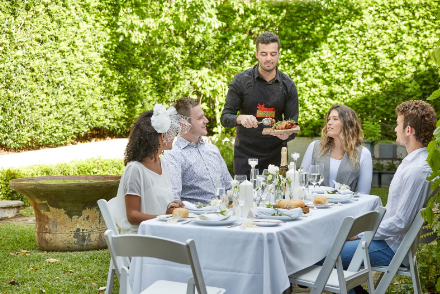 Would you like to impress your guests with a truly unique cocktail experience? Look no further! At Brazilian Barbecue Catering our delicate canapes are handmade from fresh and local produce. Our cocktail range is a mix of traditional Brazilian and modern Australian flavours, bringing to your guests a mouth-watering, vibrant experience!
Our friendly waiters and waitresses serve the selection roaming around on platters to all guests. We are passionate about our food: this is why we serve it with a smile on our faces!
Gourmet Food Selection:
While our freshly cooked meat is the star of the show, we also serve a wide range of fresh hand-made salads, freshly baked bread, finger foods and heavenly desserts. All you have to do is choose according to your choice and package.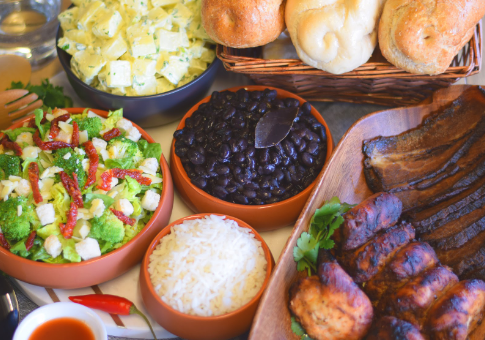 Friendly staff
We know weddings are stressful and the wedding planning takes all of your energy. Our incredibly friendly and professional staff makes sure your event goes as smoothly as possible. We arrive before time to make sure everything goes according to your plan and we bring our own equipment without charging you for it. During service, we strive to make sure that each and every guest is happily fed and full of delicious food and happy memories. Afterwards, we clean up our tables, pack up everything and leave you with nothing but happy memories!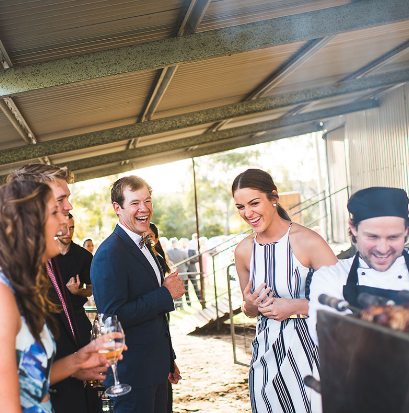 At Brazilian BBQ, make it our mission to leave you with happy memories of the most important day of your life. Our work speaks for itself. Our food and service are applauded and recommended by every couple we have had the privilege with.
We are looking to forward to creating magic at your day!
For more information visit our website.
Email us at sales@brazilianbbqcatering.com.au or call us now at PH: 02 9949 4626 to discuss your next event!