Back
Bilpin Resort Rodizio Style Wedding
Here we are again at Bilpin Resort to cook our Brazilian Barbecue for one more happy couple that are getting married.
But for this weeding let's go back in time just a little bit to give you guys an idea of how our way of working is done.
A few months before the Wedding day the couple came to our tasting to try our food selection. We always think that it is a good idea do meet our customers and offer them our food just to have the opportunity to show the people why we are really passionate about what we do. We love Brazilian food so much that we need to share the feeling, spread the love that you can feel in every bit that you will have.
At the tasting day we could chat a little bit about the food, why every choice is important, and why we do it like this, every salad, every meat needs to be cooked on the right temperature to be tender and juicy. We are always very luck to have really special people coming to us, people that never had Brazilian Barbecue before, and trust on us to give them the first impression about our food, and so far we only have stunning reviews, please take a quick look at our Facebook page to have an idea of how happy we are with our customers feedback:
Now that you guys have an idea about the tasting, lets go back to the Wedding day.
This is Bilpin Resort in the morning such a beautiful and peaceful view, check it out the video below:
Check it out the video:
When we first saw the decoration of the salon we realised that on the tables, for each guest, there was an apple, alternating red and green. This was so smart. Let me explain why!
The Wedding was held in Bilpin a small town in the Blue Mountains, west of Sydney, New South Wales. Bilpin is known as "Land of the Mountain Apple". Fruit orchards and beautiful gardens thrive in the fertile soil and the road is lined with roadside stalls selling home-made produce, especially during summer. Bilpin apples and Bilpin apple juice are well-known around Australia.
The idea of having apples for the guests are really cool, because they could have the delicious and traditional apples from the place that thay were getting married, check the picture below to see what I am writing about: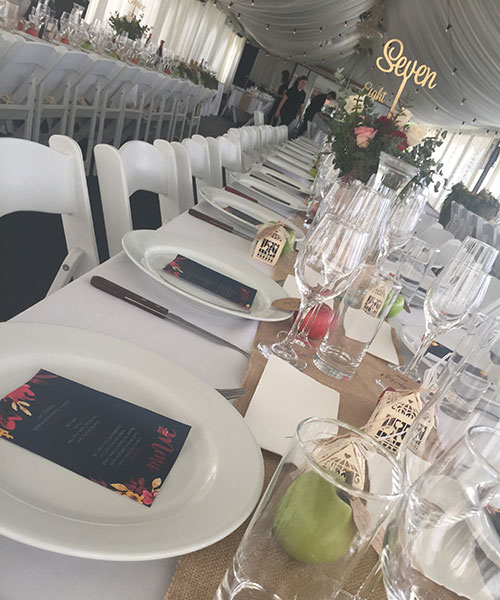 The menu wasn't different, so many tasteful choices including Potato Salad, South American Vegetable Salad, Rocket & Parmesan Cheese Salad, Sweet Corn. Meat choices were The star of the Brazilian Barbecue Picanha Beef, Chicken, Chorizo and Lamb Rump. This couldn't be better.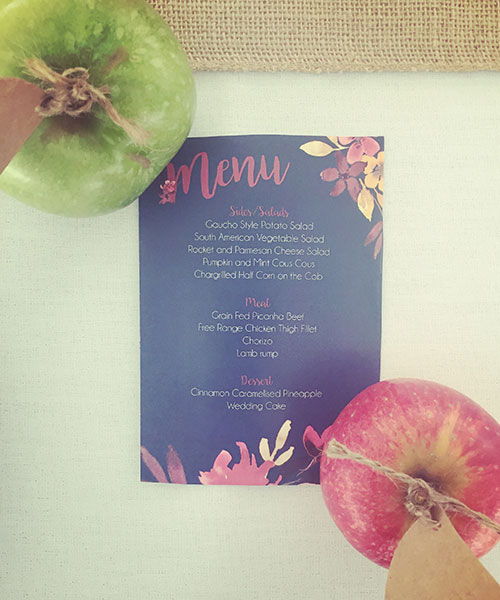 Please check more photos from the Wedding day: